Duck leg confit with potato dumplings and apple cabbage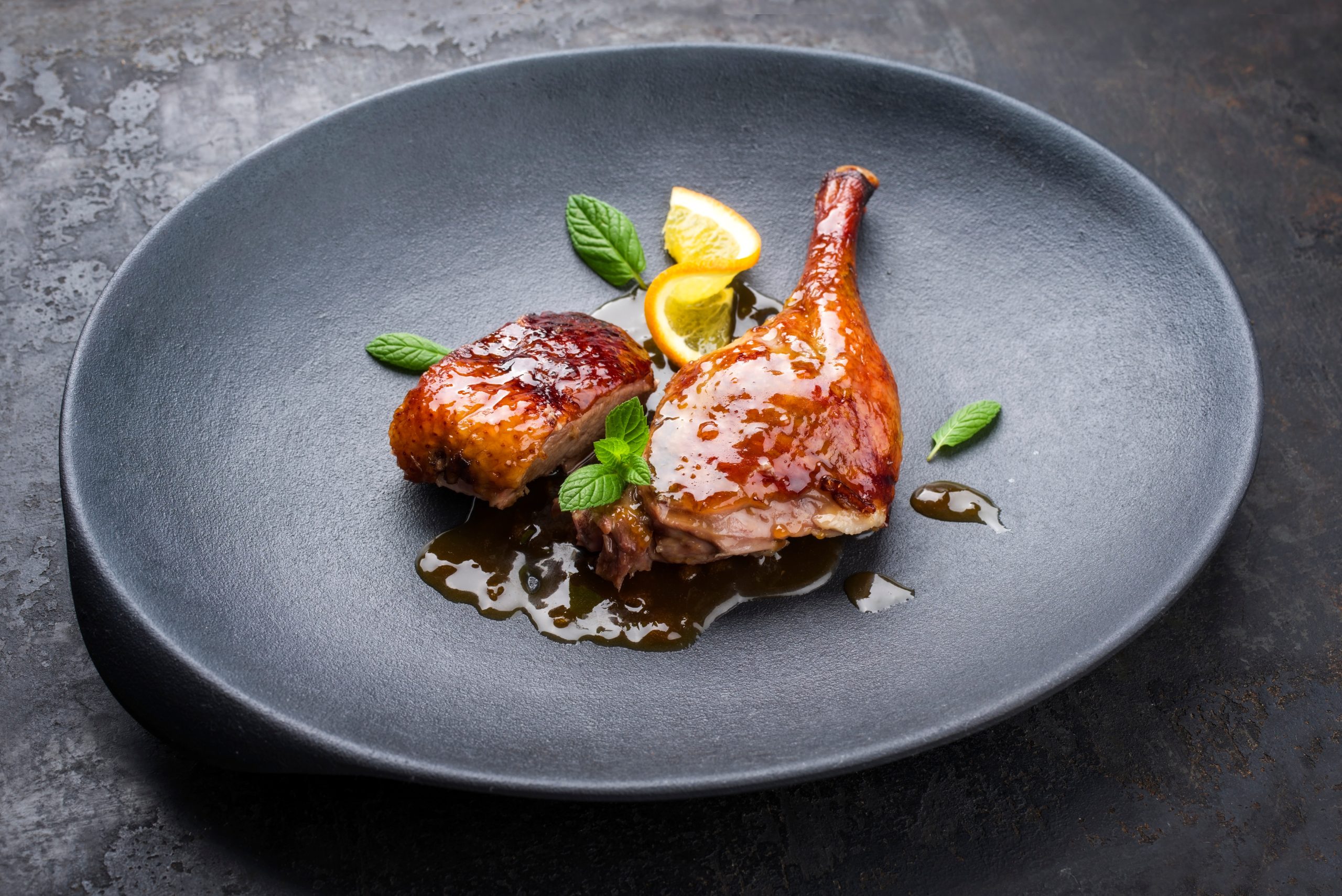 For 4 persons:
4 pc Duck legs a 180-220g
4 tablespoons duck fat or clarified butter
1 tablespoon ground cumin
salt, black pepper
Trim the duck legs. Then salt and pepper well and rub with cumin. Vacuum together with the duck or clarified butter in a bag (since a household vacuum sealer sucks in some liquid, check the weld seam carefully for leaks) and cook at 85 °C for fourteen hours (preferably overnight), then for at least 15 Quickly cool down in an ice water bath for minutes.
Before serving, first sear the duck leg on the skin side, turn and then briefly sear the meat side (approx. 1-2 minutes).
Potato dumplings:
750 g Potatoes floury boiling
2 tablespoons of butter
2 pinches of salt
2 pinches nutmeg
1 pinch of white pepper
90 g potato starch
2 pc egg yolk
First boil the unpeeled potatoes in plenty of water for about 30 minutes until soft.
Leave to cool briefly and then peel.
Press the peeled potatoes through a potato ricer or mash them very finely with a masher.
Leave to cool in the fridge overnight.
Then add the potato starch, butter, egg yolks, salt and nutmeg and knead well. You may need a little more potato starch depending on the type of potato.
Let the mixture steep for a moment and then put on a large pot with plenty of salted water.
Now use your hand to form the dumplings of the desired size from the potato mixture. Then add them, one at a time, to the boiling water using a ladle or ladle.
When all the dumplings are in the water, turn the heat down so that the water stays hot but is no longer boiling.
After 10-15 minutes, depending on the size of your dumplings, they are ready and can be removed with a ladle. Then they should be tossed briefly in butter with roasted onions.
Apple white cabbage:
1 head of white cabbage
2 pc Boskoop apples
2 pc Onions
8 tablespoons apple cider
2 tablespoons apple cider
1 pinch of sugar
1 pinch of salt
1 pc Bay leaf
Clean the cabbage, remove the stalk and cut into thin strips. Salt the cabbage and leave to infuse. In the meantime, peel the onions and apples and also cut into strips.
Heat butter in a saucepan. Briefly dress the onions without color, add the apples and sugar and let them caramelize slightly.
Deglaze with the apple cider, add the cabbage and the remaining ingredients and cook for about 20-30 minutes until soft.
Taste and enjoy again.